Singapore fuel oil inventories down 19% in May
Australia
Bangladesh
Brazil
China
Indonesia
Iraq
Korea, Rep. of
Russia
U.A.E.
Singapore
HSFO
LSMGO
VLSFO
Residual fuel oil stocks in Singapore averaged 19% lower in May than in April, data from Enterprise Singapore shows.
Singapore fuel oil and middle distillate stocks since January 2020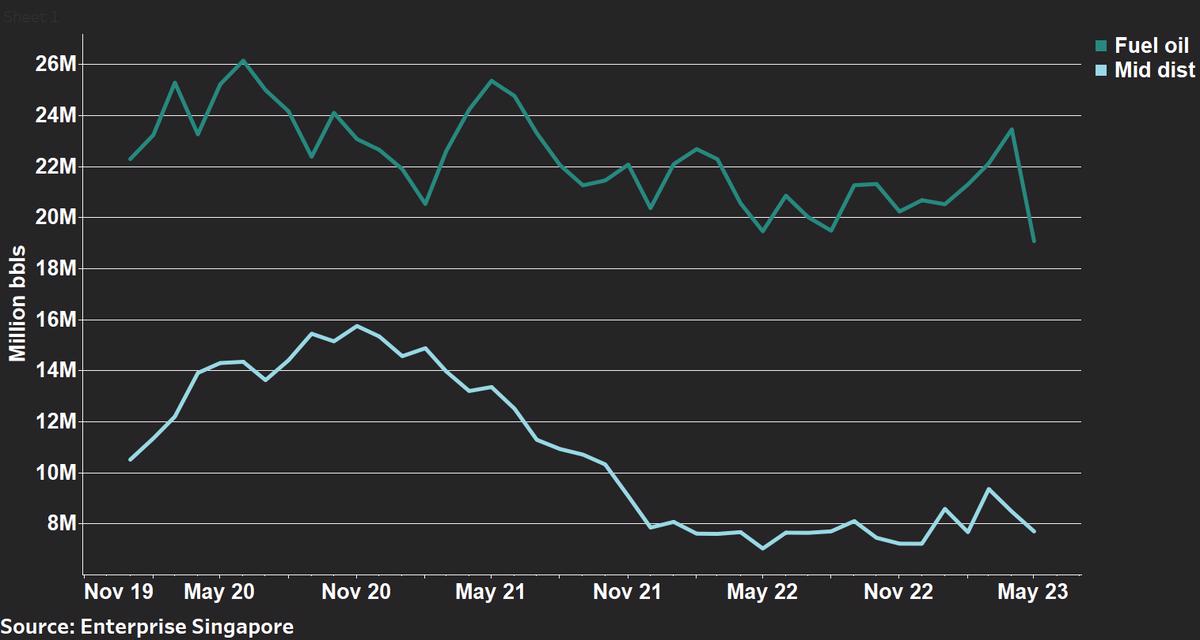 Changes in monthly average Singapore stocks from April to May:
Residual fuel oil stocks down 4.38 million bbls to 19.08 million bbls
Middle distillate stocks down 780,000 bbls to 7.71 million bbls
Singapore's net fuel imports plunged 24% lower in May, to their lowest level since last August. There was less overall cargo trade, with fuel oil imports slumping by 20%, and exports declining by 14%.
Most HSFO cargo volumes arrived in the port from the UAE (39%) and Russia (36%) in May, followed by Iraq (10%) in third, according to cargo tacker Vortexa. HSFO exports largely departed for China, Bangladesh and South Korea.
The bulk of low sulphur fuel oil (LSFO) arrived in Singapore from the UAE, Brazil and Indonesia in May. LSFO cargoes out of Singapore were mostly bound for China, Australia and South Korea.
The port's middle distillate stocks were also down, declining by 9% on the month.
Singapore fuel oil imports and exports since January 2020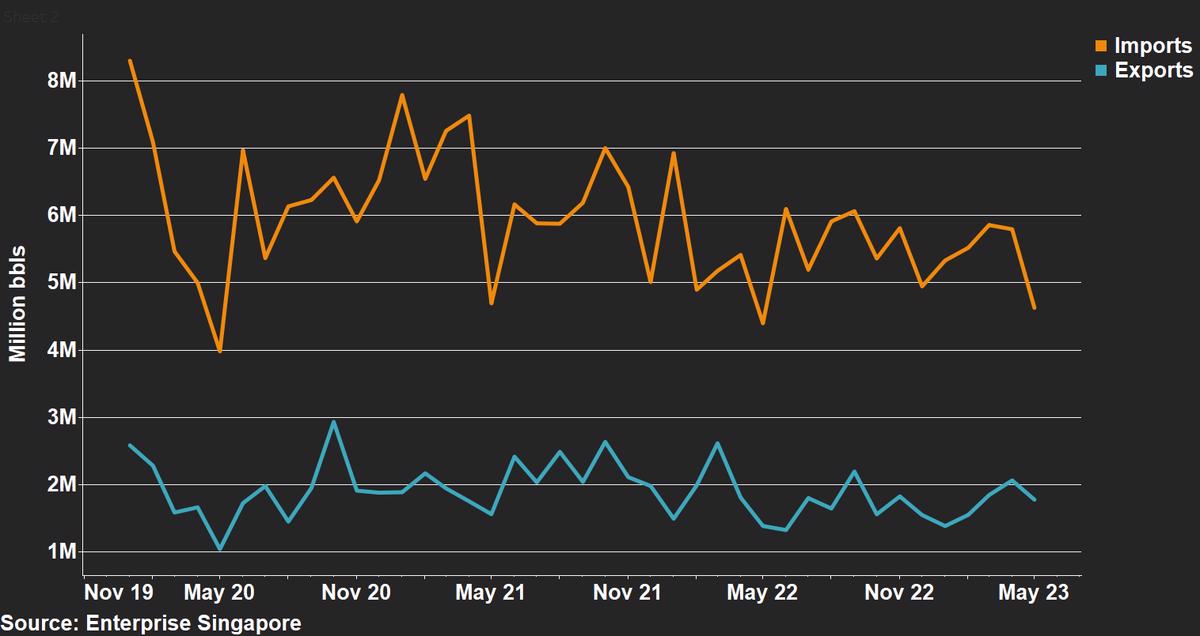 Changes in monthly average Singapore fuel oil trade from April to May:
Fuel oil imports down 1.17 million bbls to 4.63 million bbls
Fuel oil exports down 286,000 bbls to 1.78 million bbls
Fuel oil net imports down 882,000 bbls to 2.85 million bbls
Securing VLSFO and HSFO stems can be difficult in Singapore. Recommended lead times for VLSFO are now 9-12 days, and HSFO needs 8-11 days. Prompt availability of LSMGO has also tightened, with lead times of 6-8 days – up from 5-7 days last week.
By Tuhin Roy
Please get in touch with comments or additional info to news@engine.online
Provided by
Latest articles from the region
Contact our Experts
With 50+ traders in 12 offices around the world, our team is available 24/7 to support you in your energy procurement needs.