Europe & Africa Market Update
Durban
Gibraltar
Las Palmas
Port Elizabeth (Algoa Bay)
Rotterdam
HSFO
LSMGO
VLSFO
Regional bunker benchmarks have increased further, and Las Palmas' HSFO premium over Gibraltar has widened amid tight supply.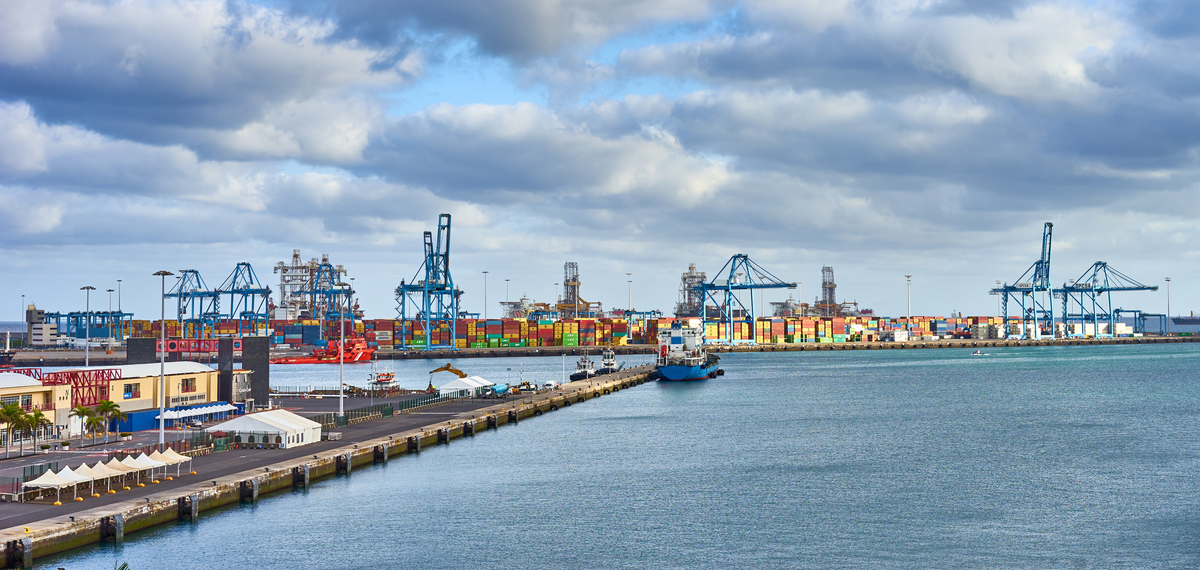 PHOTO: The commercial harbour in Las Palmas. Getty Images
Changes on the day to 09.00 GMT today:
VLSFO prices up in Rotterdam ($17/mt), Gibraltar ($13/mt) and Durban ($9/mt)

LSMGO prices up in Rotterdam ($22/mt), Durban ($19/mt) and Gibraltar ($18/mt)

HSFO prices up in Rotterdam and Gibraltar ($13/mt)
Bunker benchmarks have risen across key European and African ports, tracking Brent's upward thrust.
Rotterdam's VLSFO price has gained by a steeper $17/mt in the past day, while Gibraltar's VLSFO price has increased by $13/mt. The price moves have contributed to narrow Gibraltar's VLSFO premium over Rotterdam from $28/mt to $24/mt.
Suppliers in Gibraltar have indicated HSFO in a $12/mt range in the past day. Product availability is said to be normal, with recommended lead times of 4-5 days. However, availability of the grade is tight in Las Palmas. Its premium over Gibraltar's HSFO has nearly doubled from last week's $16/mt to $28/mt now.
Minimal congestion has been reported in Gibraltar, where four vessels are waiting for bunkers today, port agent MH Bland says. Two suppliers are experiencing delays of 1-4 hours there.
Front-month Low Sulphur Gasoil Futures has gained by $32/mt in the past day. The significant price rise has contributed to widen its premium over Rotterdam's LSMGO from $15/mt in the past day, to $25/mt now.
Bunker operations in Algoa Bay have been kept on standby this morning as bunker barges are not ready, according to Rennies Ships Agency. Two vessels are currently waiting to bunker at anchorage, and another four vessels are scheduled to arrive later today, Rennies says.
Brent
The front-month ICE Brent contract has gained by $2.69/bbl on the day, to $75.51/bbl at 09.00 GMT.
Upward pressure:
Brent futures gained to reverse earlier losses after US Federal Reserve governor Philip Jefferson said the central bank is considering keeping its key interest rate steady at its upcoming meeting. Indications of an interest rate freeze have boosted optimism in the crude oil market and other commodity futures that rely on consumer demand.
Brent was further supported after the $31.4 trillion US debt ceiling bill was passed in Washington with majority support from both Democrats and Republicans to avoid an unprecedented default.
Crude oil investors are now focused on the outcome of the OPEC+ meeting on 4 June as speculations about another round of output cuts continue.
Downward pressure:
Commercial US crude inventories gained by 4.49 million bbls on the week, the EIA's latest figures showed yesterday. The EIA crude stock build fell short of the 5.2 million-bbl build estimated for the week ending 26 May by the API. And both builds ran counter to market analyst projections of a 1.2 million-bbl draw, according to Trading Economics.
China released weaker-than-expected manufacturing and services data for May on Wednesday, provoking the market to worry about a lag in oil demand.
Chinese economic rebound has stalled, and global manufacturing activity is struggling, said OANDA's market analyst Craig Erlam. "Germany is in recession and the US may be headed for one. The questions now are will OPEC+ see it that way and could Russia be convinced to cut again? If not, Brent crude may well test those recent lows more forcefully," he added.
By Nithin Chandran and Aparupa Mazumder
Please get in touch with comments or additional info to news@engine.online
Provided by
Latest articles from the region
Contact our Experts
With 50+ traders in 12 offices around the world, our team is available 24/7 to support you in your energy procurement needs.