East of Suez Market Update
Busan
Daesan
Fujairah
Incheon
Onsan
Singapore
Ulsan
Yeosu
Zhoushan
HSFO
LSMGO
VLSFO
Prices have moved up across major Asian hubs, and availability of VLSFO and HSFO have tightened across South Korean ports.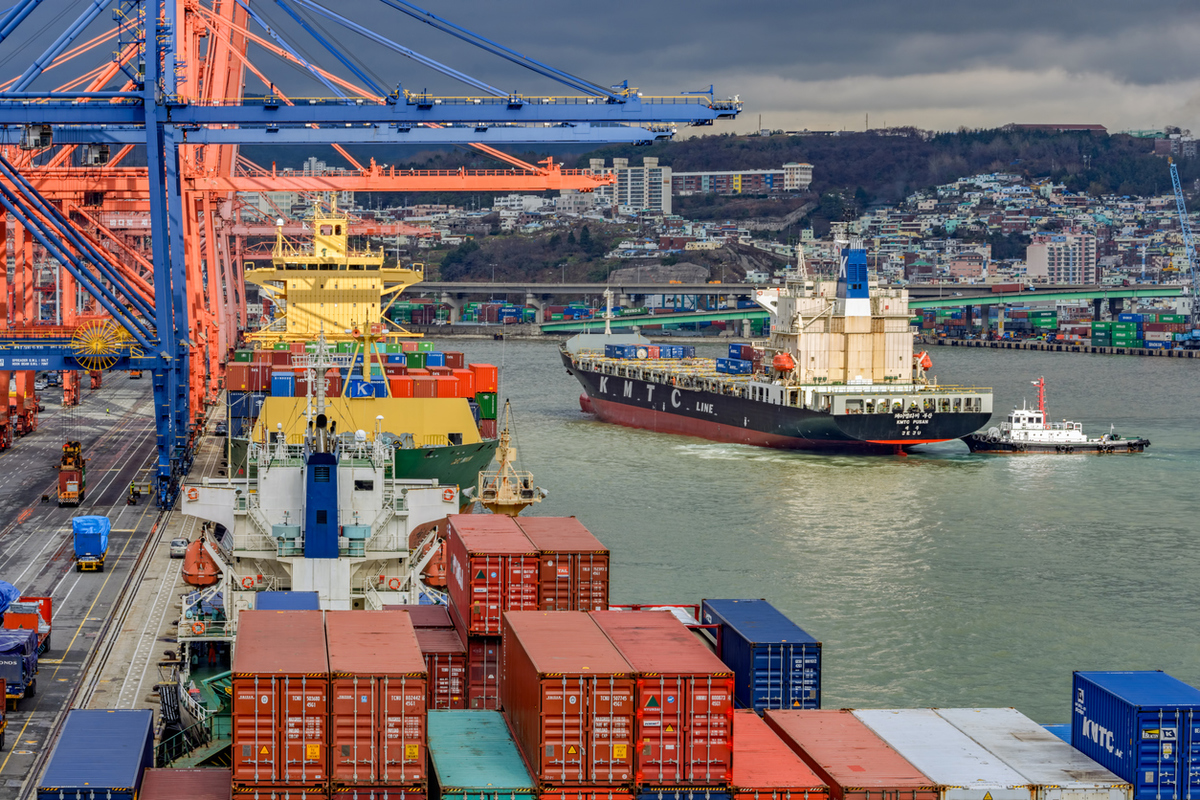 PHOTO: Tugboat helps to turn around a large container ship on its way out of the Port of Busan, South Korea. Getty Images
Changes on the day to 17.00 SGT (09.00 GMT) today:
VLSFO prices up in Zhoushan ($12/mt), Fujairah ($8/mt) and Singapore ($7/mt)
LSMGO prices up in Zhoushan ($16/mt), and Fujairah and Singapore ($7/mt)
HSFO prices up in Fujairah and Zhoushan ($1/mt), and unchanged in Singapore
VLSFO and LSMGO benchmarks across all grades in East of Suez ports have moved counter to Brent's downward movement and have gained some in the past day.
Zhoushan's VLSFO and LSMGO prices have risen by $12/mt and $16/mt, respectively, in the past day – the highest among major Asian hubs. Some higher-priced indications have supported the benchmarks' resistance against Brent's downward pull.
The Chinese bunkering hub's VLSFO price increase has meant that its VLSFO premiums over Fujairah and Singapore have widened to $35/mt and $16/mt, respectively.
A source says that low demand and persistent weather disruptions have somewhat kept a lid on tightness across Zhoushan. Most suppliers can still supply VLSFO and LSMGO stems with lead times of 3-5 days in the port, while HSFO requires longer lead times of 4-7 days.
But bunkering still remains suspended by bad weather in Zhoushan since Sunday barring the inner anchorage of Mazhi, which resumed operations yesterday. Bunker deliveries are likely to fully resume on 3 June amid a forecast of good weather.
Availability across all bunker fuel grades has tightened in Fujairah. Recommended lead times of VLSFO and HSFO are about 9-11 days – up from 5-7 days in the earlier part of the week. LSMGO requires a shorter lead time of around seven days.
Meanwhile, a source says that several suppliers are running low on VLSFO and LSMGO stocks across South Korean ports, following a spurt in demand in midweek. This meant that the availability for both grades have tightened in South Korean ports, with lead times jumping to 10-14 days from 3-5 days at the beginning of the week. HSFO remains more readily available, with much shorter lead times of around four days – virtually unchanged from the earlier part of the week.
Brent
The front-month ICE Brent contract has dipped by a marginal $0.15/bbl on the day, to $72.82/bbl at 17.00 SGT (09.00 GMT).
Upward pressure:
Brent has drawn support from tentative optimism over US oil demand. A contested bill has passed a vote in the US House of Representatives to suspend the country's $31.4 trillion debt ceiling. This will likely mean the US can avoid defaulting on its growing debt and steer clear of an economic meltdown from running out of cash.
US Federal Reserve governor and vice chair nominee Philip Jefferson has indicated that the central bank's interest rate hikes could be paused in June. A rate hike "skip" would counter market expecations of another hike, and could provide the US economy with a bit of breathing space against a backdrop of slow economic growth.
"Oil markets may have been oversold in the last two trading days due to the sluggish Chinese data and debt ceiling concerns. Sentiments rebounded amid the debt bill's passage in the House and Fed's rate hike pause signal also offered a rebounding opportunity," commented CMC Markets analyst Tina Teng.
Downward pressure:
Saudi Arabian oil giant Aramco could cut its official selling prices (OSPs) all crude grades to Asia in July by $1/bbl to a 20-month low, reports Reuters.
Demand indications from the world's largest oil importer China continue to be mixed after it released weaker-than-expected manufacturing and services data for May, provoking the market to worry about a lag in demand.
US crude oil inventories grew by about 5.2 million bbls last week, according to an estimate from the American Petroleum Institute (API). The build countered the 1.2 million-bbl draw expected by analysts, says Oilprice.com.
By Tuhin Roy and Aparupa Mazumder
Please get in touch with comments or additional info to news@engine.online
Provided by
Latest articles from the region
Contact our Experts
With 50+ traders in 12 offices around the world, our team is available 24/7 to support you in your energy procurement needs.