Fujairah's fuel oil inventories rise 15% in May
Croatia
Iran
Kuwait
Pakistan
Russia
Singapore
Fujairah
HSFO
LSMGO
VLSFO
Fujairah's fuel oil inventories averaged 15% higher in May than in April, Fujairah Oil Industry Zone (FOIZ) and S&P Global data shows.
Fujairah middle distillate, heavy distillate and residual stocks since October 2020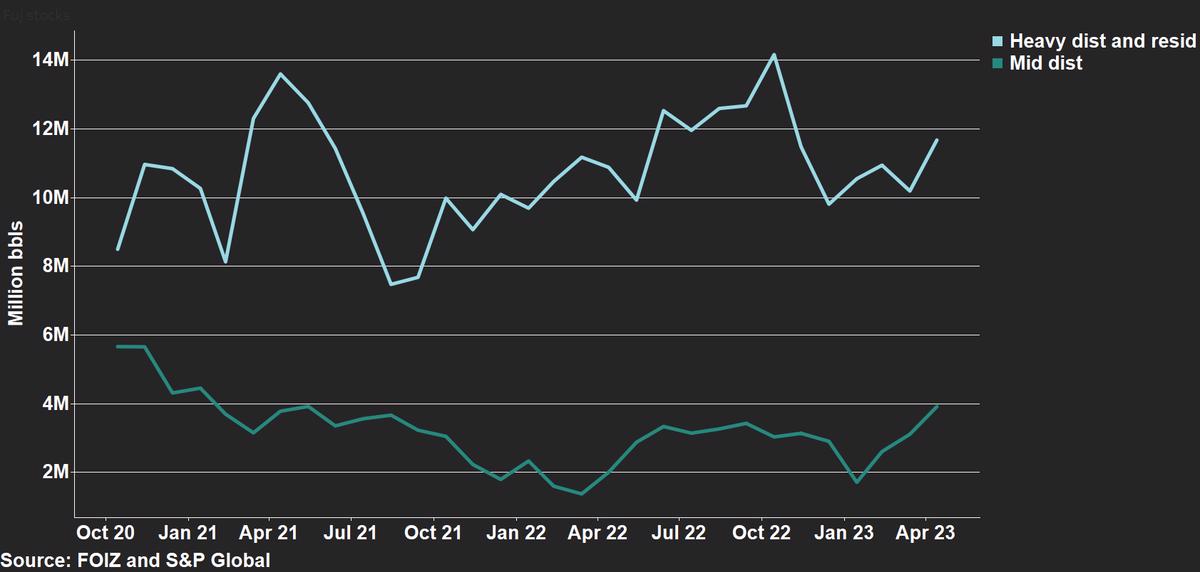 Changes in monthly average Fujairah stocks from April to May:
Heavy distillate and residual stocks up 1.48 million bbls to 11.68 million bbls
Middle distillate stocks up 806,000 bbls to 3.91 million bbls
Around 238,000 b/d of fuel oil has been imported to Fujairah in May, down from 259,000 b/d imported across April, according to cargo tracker Vortexa.
The UAE port's fuel oil exports have risen by a significant 102,000 b/d to 329,000 b/d in May. This has tilted its trade balance into net export surplus in May.
Almost one third of Fujairah's imports have come from Iran in May, followed by Kuwait and Russia. Meanwhile, more than half of the fuel oil departing Fujairah in May has headed for Singapore. Croatia and Pakistan have rounded up the top three export destinations.
Fujairah's middle distillate stocks have surged in May as well, averaging 26% higher than in April.
All bunker fuel grades are in tight availability in Fujairah amid good demand, a source says. Lead times of 5-7 days are recommended across all three grades in the port. Some suppliers can offer prompt stems of all grades, but their availability depends on the stem size, the source adds.
By Tuhin Roy
Please get in touch with comments or additional info to news@engine.online
Provided by
Latest articles from the region
Contact our Experts
With 50+ traders in 12 offices around the world, our team is available 24/7 to support you in your energy procurement needs.