East of Suez Market Update
Fujairah
Hong Kong
Singapore
Zhoushan
HSFO
LSMGO
VLSFO
Prices have moved down across major Asian hubs, and VLSFO and HSFO availability is tight in Hong Kong due to a spike in demand and tight barge availability.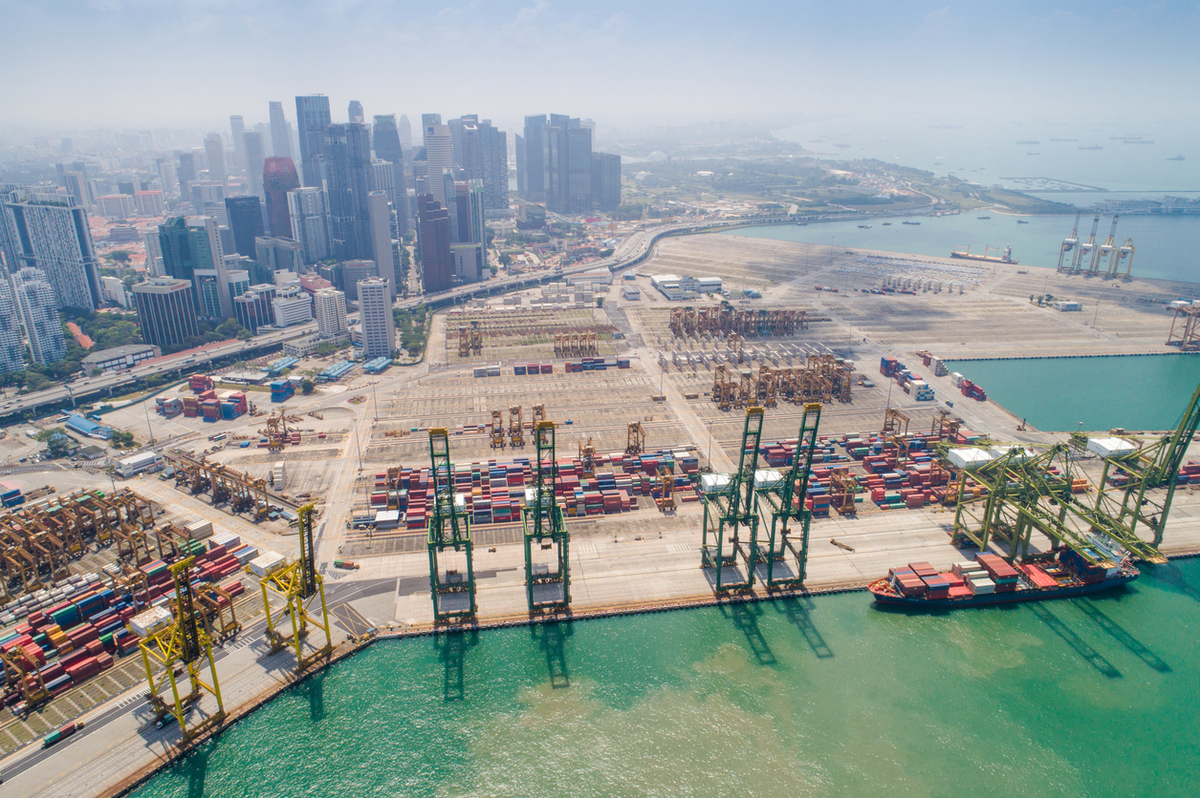 PHOTO: Container cargo freight ship with working crane bridge in shipyard in Singapore. Getty Images
Changes on the day to 17.00 SGT (09.00 GMT) today:
VLSFO prices down in Zhoushan ($20/mt), Fujairah ($19/mt) and Singapore ($13/mt)
LSMGO prices down in Fujairah and Zhoushan ($29/mt), and Singapore ($13/mt)
HSFO prices down in Fujairah ($20/mt), Singapore ($18/mt) and Zhoushan ($16/mt)
Bunker benchmarks across East of Suez ports have tracked Brent's downward movement and have declined for the second consecutive day.
Singapore's VLSFO price has declined by $13/mt in the past day – the lowest among the major Asian hubs. Some higher-priced VLSFO indications have supported the port's benchmark's resistance.
Singapore's modest VLSFO price decline has meant that its VLSFO premium over Fujairah has widened to $20/mt, and its VLSFO discount to Zhoushan has narrowed to $11/mt.
Securing VLSFO and HSFO stems can be difficult in Singapore. Lead times of VLSFO are 9-11 days and HSFO needs 7-12 days. The prompt availability of LSMGO has also tightened, with lead times of 6-9 days – up from 5-7 days last week.
VLSFO and HSFO availability is tight in Hong Kong as well, owing to an uptick in demand and tight barge availability. Some suppliers can offer both grades with longer lead times of 7-10 days. LSMGO remains more readily available, with shorter lead times of 3-5 days.
Availability of VLSFO and LSMGO remains good in Zhoushan, with lead times of 3-5 days. HSFO stems need slightly longer lead times of 4-7 days.
Bunkering resumed at the port's inner anchorage of Mazhi this morning. However, bunker operations remain suspended by bad weather at the port's less sheltered Xiushandong anchorage, and at the outer Tiaozhoumen and Xiazhimen anchorages since Sunday, a source says.
Bunker operations across all anchorages could fully resume on 4 June, when calmer weather is forecast.
Brent
The front-month ICE Brent contract has dipped further by $2.64/bbl on the day, to $72.95/bbl at 17.00 SGT (09.00 GMT).
Upward pressure:
Oil markets continue to react to mixed signals from producing nations on another round of output cuts from OPEC+, ahead of the group's meeting on 4 June.
However, the Russian Deputy Prime Minister has played down the possibility of another production cut.
"It seems Novak's words have carried more weight in the markets as traders determined that no alignment of thought will mean no deal. That may prove a little naive given the sway that Saudi Arabia holds," OANDA's market analyst Craig Erlam said.
On the other hand, the US oil and gas rig count has gone down by 44 this month, the biggest drop since 2020, after energy firms in the US cut rigs for a fourth consecutive week, according to Baker Hughes report.
"The falling rig count in the US suggests that US oil production may have already peaked," said Phil Flynn, senior account executive of The Price Futures Group.
Downward pressure:
The world's largest oil importer, China has released a weaker-than-expected economic data, provoking oil markets to worry about a lag in demand recovery.
China's official manufacturing purchasing managers' index (PMI) dropped to 48.8 this month, down from 49.2 in April. A reading below 50 indicates contraction.
"The current pessimism surrounding China's commodity (oil) demand stands in contrast to the optimism at the beginning of this year," said Vivek Dhar, director of commodities research at the Commonwealth Bank of Australia.
Additionally, concerns about a second COVID wave in China and a potential increase in interest rate by the US Federal Reserve continue to weigh on Brent futures.
By Tuhin Roy and Aparupa Mazumder
Please get in touch with comments or additional info to news@engine.online
Provided by
Latest articles from the region
Contact our Experts
With 50+ traders in 12 offices around the world, our team is available 24/7 to support you in your energy procurement needs.