Europe & Africa Market Update
Algeciras
Amsterdam
Antwerp
Ceuta
Durban
Gibraltar
Las Palmas
Malta Offshore
Port Elizabeth (Algoa Bay)
Rotterdam
Regional benchmarks have risen with Brent values, and suppliers have resumed bunker deliveries at Las Palmas' outer anchorage.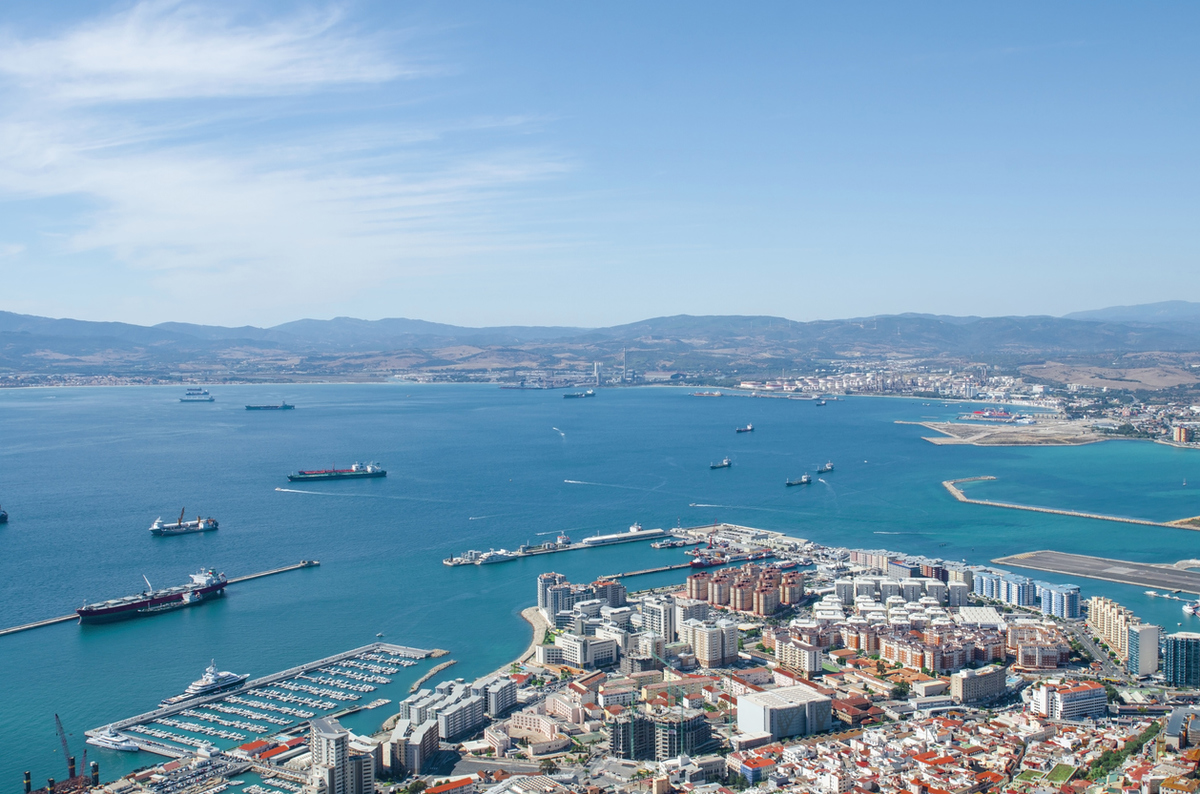 PHOTO: Aerial view of the Bay of Gibraltar. Getty Images
Changes on the day to 09.00 GMT today:
VLSFO prices up in Durban ($9/mt), Gibraltar ($6/mt) and Rotterdam ($5/mt)

LSMGO prices up in Durban ($16/mt), Gibraltar ($14/mt) and Rotterdam ($9/mt)

HSFO prices up in Gibraltar ($14/mt) and Rotterdam ($10/mt)
Tracking a sharp rise in Brent futures, bunker prices across all grades have increased in Rotterdam, Gibraltar, Durban and several other regional ports.
Gibraltar's HSFO price rise has outpaced Rotterdam's to widen its premium by $4/mt to $68/mt. Bunker supply is said to be normal in Gibraltar, but securing prompt delivery of HSFO can be slightly difficult, a source says. Lead times of 5-7 days are advised for good coverage from suppliers, the source adds. Recommended lead times for VLSFO and LSMGO are 4-6 days and 3-5 days, respectively.
Meanwhile, VLSFO availability is under pressure for prompt delivery days in Algeciras, where one supplier is fully booked, according to a source. Supply of the grade is normal in Ceuta.
Minimal congestion has been reported in Gibraltar, Algeciras and Ceuta today, port agent MH Bland says. Bunker deliveries have resumed at Las Palmas' outer anchorage after being hampered by bad weather in the last few days, port agent MH Bland says. The weather "seems suitable this week to take bunkers at outer anchorage," the port agent adds.
In South Africa's Durban, VLSFO and LSMGO prices have increased in the past day. Supply of both products is said to be normal in Durban and Algoa Bay.
Brent
The front-month ICE Brent contract has climbed by $2.15/bbl on the day, to $77.94/bbl at 09.00 GMT.
Upward pressure:
Current market pessimism is misplaced in light of improving fundamentals and this presents an "opportunity" for investors, argues Eric Nuttall, oil market investor and partner at Ninepoint Partners.
"F.E.A.R (false evidence that appears real) is driving the oil market, with net length back to pandemic lows. Given what we estimate to be imminent, material global inventory draws, this level of pessimism contrasted against meaningful improving fundamentals = opportunity," Nuttall has written in a social media post.
Saudi Arabian oil minister Abdulaziz bin Salman has warned speculators to "watch out" as positioning suggests market speculators have become bearish in recent weeks amid fears of a global economic slowdown. "I keep advising them that they [market speculators] will be ouching - they did ouch in April. I don't have to show my cards. I'm not a poker player... but I would just tell them to watch out," he said during the Qatar Economic Forum organised by Bloomberg.
The warning may indicate that the Kingdom and its OPEC+ allies will come up with another surprise at their 4 June meeting in Vienna to boost prices.
Commercial US crude inventories were drawn by 6.8 million bbls in the week that ended on 19 May, according to an American Petroleum Institute (API) estimate. Official weekly data from the Energy Information Administration (EIA) is scheduled for release later today.
Downward pressure:
Recent market positioning data suggests that oil market speculators have substantially reduced their net long positions in ICE Brent futures in recent weeks, says ING's head of commodity strategy Warren Patterson.
This implies that money managers expect the recent weakness in the oil market to persist and are taking a defensive stance by reducing their exposure to long positions in ICE Brent. The bearish sentiment may prompt other traders to take a defensive stance and reduce their exposure to long positions, which can weigh further on Brent's price.
By Shilpa Sharma and Konica Bhatt
Please get in touch with comments or additional info to news@engine.online
Provided by
Latest articles from the region
Contact our Experts
With 50+ traders in 12 offices around the world, our team is available 24/7 to support you in your energy procurement needs.